Buzz 'Bangin' Goree a.k.a 'Clandestine' is one of the Underground Resistance's assault DJ's, and follows a deeply traditionally based approach to the competitive world of Detroit DJ:ing. At the tender age of thirteen, Buzz started his career playing disco music in the city of Detroit, Michigan, and by the age of fifteen he had already graced top clubs like Studio 54 and La Umos with guest appearances.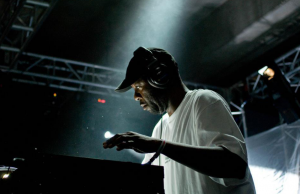 In the early 80's Buzz teamed up with the one of Detroit´s dominating DJ teams – Audio Mix, and in 1993 he founded his first label, Night Groove Records where he acted as executive producer for Paula McPheirson's 'Lift Me Up' and Agent-X's 'Groove Tracks Vol. 1′ featuring Burt Collins. Soon after that, he met underground resistance mastermind Mike Banks and the two worked alongside on legendary label Happy Records, where Goree co-produced the hit 'Work Me' with artist De-Hi. In order to take UR to the next level Buzz was involved in producing many of the infamous and exclusive UR Assault DJ-ammunition tracks, available only to assault DJ's.

Buzz Goree utilizes his DJ skills in perfect combination with minimal tech-house, minimal house, and techno ranging from classic UR to contemporary, to its fullest and beyond! He's made appearances all over the world playing at clubs like Liquid Room |Tokyo, The Shelter | Shanghai, Rex Club & Queens | Paris, Monkeys | Madrid, Club 69 & Sound Haus | Glasgow as well as a number of clubs in Amsterdam, Barcelona, Dublin, London and Rome. A regular in Berlin, he's appeared at Love Parade, Club Maria, Tresor, Panorama Bar, :// about blank, so' (436) & Suicide Circus and toured with such luminaries as Scan 7, Juan Atkins, A Guy Called Gerald and Suburban Knight.
Remaining to this day a member of the underground resistance Goree maintains households in both Detroit and Berlin, taking advantage of being in the vein of things. Running his own project, Detroit techno-rooted imprint Mixworks, developing and fostering new young artists from around the world, not limitied to any one specific genre – simply put by Buzz himself  "we make music that comes out of us".
If you are looking for the inner city Detroit sound, a small, sweaty venue with a DJ who satisfies the dancers, then go with the bang factor that comes standard with the original intimidator, Buzz " Bangin' " Goree. He will take your there, no questions asked.
<!-Artist-content-->
Links