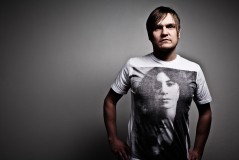 WMWL proudly presents our latest member of the family, Tiger Stripes aka Mikael Nordgren! Reaching out just across the desk from Jesper Dahlbäck in their common studio, we are truely thrilled to expand our roster to encompass one of the true legends of Swedish techno & tech-house scene. Although 2008 was the major breakthrough for Tiger Stripes, he has been around quite a while, among other things running the infamous club project Go Bang! in Stockholm, a project that led him to work and release with Jerome Sydenham on his Ibadan label.
At the age of 10, he started exploring music and his curiosity is still well alive. The late 70's and early 80's underground disco sounds form his main influence, something that led to working with the king of boogie – Leroy Burgess. Other cooperation inlcude Carl Craig and Francois K, and also releasing on Get Physical imprint. His techy, dreamy sound is highly sought after, both as DJ as well as remixer/producer.
Tune in into his latest mix-tape and stay tuned…
HMWL-WMWL Podcast 24 – Tiger Stripes by House Music With Love
This entry was posted in
Featured
,
News
and tagged
get physical
,
ibadan
,
mikael nordgren
,
tiger stripes
,
WMWL
. Bookmark the
permalink
.